UPVC Sash Windows
If you are looking to replace old sash windows then we offer a beautiful range of UPVC sash windows. Our sliding sash windows are a great alternative to traditional sash windows. They offer a practical solution to leaky, draught prone windows.
Whether you are looking for replacement sash windows or looking to add a classic touch to your property, our UPVC sash windows provide the traditional aesthetics and modern materials you need, to maintain your property's period design, character and efficiency.

Style
Our UPVC sash windows are available in a variety of complimentary colours and finishes. Our windows are designed to blend seamlessly with your home and are available in a range of wood grain finishes.
Maintaining a sleek and elegant look, our UPVC sash windows have concealed gaskets. This means that no unsightly black lines are visible between frame and window.
Bespoke Sash Windows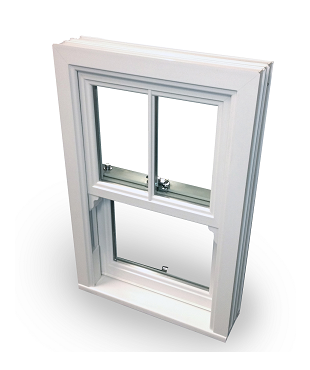 Customise your UPVC sliding sash window. For example, if you have a room where greater privacy is required, our obscured glazing option is ideal.
We have a variety of glass patterns available, allowing you to control the level of privacy required.
Our sash windows can be tailored to your specifications. Our other glazing options include external astragal bars and internal Georgian bars.
Safety & Security
It is recommended that homes with young children consider window safety. Our sash windows are available with child safety restrictors which limit the opening of the bottom sash to 120mm. This will help prevent any accidents or unwanted escapes.
High security comes as standard on all our windows, with a choice of security locking mechanisms. Our sliding sash windows are internally beaded for heightened security.
Security and style are combined with a beautifully sculptured bead which is in keeping with the window's traditional appearance.
Our windows really are built to last, with reinforced frames of galvanised steel. Our UPVC sash windows offer the ultimate protection.
Energy Efficiency

Our UPVC sash windows are extremely energy efficient. Our low E Argon filled Planitherm glass prevents valuable energy from escaping your windows, as well as offering effective insulation.
Contact us today for a free quotation : 0113 257 8933